Invisalign Before And After Photos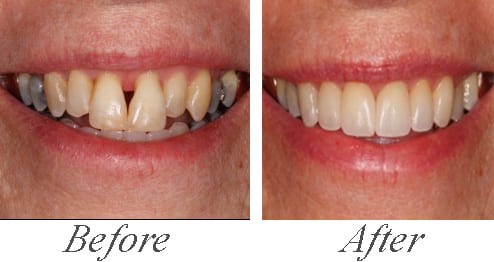 *Note: In this case, Invisalign was combined with Veneers to achieve results shown above
Do you find yourself hiding your teeth when you smile because you're embarrassed of them?
Maybe you've avoided seeking treatment because you hate the look of traditional metal braces or because you're afraid of how uncomfortable the metal brackets and wires can be. Thanks to Invisalign clear aligner, there's an easy alternative to traditional braces.
Clear aligners are custom-made to fit your teeth perfectly. They move teeth exactly where they need to be a little bit at a time using expertly planned strength and precision.
What Problems Can Invisalign Fix?
Gaps between teeth
Crooked teeth
Overbite
Underbite
Openbite
Crossbite
Patients love the option of clear braces and are seeing fantastic results in as little as 6 months depending on the severity of the case. Even those who have longer treatment plans find the day-to-day life of living with Invisalign a breeze. Some of the reasons why include:
You can remove them when you clean your teeth
You can remove them when eating
You can remove them when you play sports
You can clean them whenever you want
Knowing you don't have to give up your favorite foods or worry about staining underneath brackets means that you don't have to make any drastic life changes during the straightening process.
Who Is A Good Candidate For Invisalign?
Invisalign can handle mild to moderate orthodontic movement. It's not appropriate when severe movement is required, but most typical cases can be handled with Invisalign. At Arcadia Dental Arts, Dr. Pappas uses Invisalign to correct these problems:
Gaps between teeth
Overbites
Crowded teeth
Crossbites
Underbites
How Does The Invisalign Process Work?
The first step is for Dr. Pappas to make sure your particular orthodontic situation can be addressed with Invisalign. As mentioned above, most mild to moderate corrections can be solved with Invisalign.
Next, Dr. Pappas performs a full dental examination and analysis of your bite using the Invisalign digital scanning system. With this information, the system creates precise 3D images of the patient's teeth. Using these images, Dr. Pappas then plots out the movement required. The Invisalign system allows us to preview with the patient exactly how his or her teeth will progress through the entire treatment. This information is then digitally sent to Align Technology, the company behind Invisalign. The company takes the data and creates the acrylic aligner trays.
When your aligners arrive in our Phoenix offices, it's time for your next appointment. We will explain how to use the aligners, along with care instructions and other pertinent information. Then we'll give you the first few pairs of aligner trays and you head home.
All you do is wear the aligner trays for 20-22 hours every day for two weeks. Those trays put subtle pressure on your teeth, moving them without the pain that accompanies the tightening of wires with braces. After two weeks, you discard those trays and switch to the next pair. At about six-week intervals, you'll come see Dr. Pappas so he can monitor your progress and give you the next series of aligners.
How Long Does The Invisalign Process Usually Take To Move The Teeth?
An interesting thing about Invisalign is that, not only is the process far more comfortable than traditional metal bands and wires, but it also moves your teeth more quickly. On average, it takes about two years for traditional braces to straighten your teeth. Invisalign averages 12-14 months to achieve the same movement.
How Do I Take Care Of My Aligner Trays?
When you compare the difficulty of trying to keep your teeth and braces clean when wearing traditional braces, hygiene with Invisalign is a breeze. We'll provide instructions for you, but here are the basics.
When you take out your Invisalign aligner trays to brush and floss your teeth, you also brush the aligners with your toothbrush and some toothpaste. If you want, you can also soak your aligners in denture cleaner, Retainer Brite, or the official Invisalign crystals to keep them clean and sanitized. You could do this when they are out while you are eating dinner. One unusual method that some people really like is to use clear anti-bacterial soap to gently clean the aligner trays with your fingers.
How Much Does Invisalign Cost? Is It Covered By Insurance?
The cost of Invisalign treatment is similar to that of traditional orthodontics. Different patients can have somewhat different costs depending on the number of aligner trays required to achieve the movement necessary.
As for your dental insurance, coverage is variable depending on your insurance plan. Most dental plans cover from one quarter to one third of the cost of orthodontic treatment, whether Invisalign or traditional. At Arcadia Dental Arts, we work with your insurance provider to try and gain the highest level of coverage possible.
"Dr. Pappas is always thorough and takes his time with each patient. he is kind and explains things in a way in which you understand. you never feel as though you are being "sold" or upcharged. he is honest about what needs to be done and the urgency or not. his staff is always friendly and smiling. i would never go anywhere else." – Amanda P.

"My first time outside of a cleaning at this location and I had a great experience at ADA! The staff is so friendly and it really felt like they make an extraordinary effort to provide an exceptional experience. Dr. Pappas is friendly and professional. The dynamic that he has with his office is so fun to be a part of. If you are looking for quality dental work, you can trust this group to take great care of you." – Marshall L.
Schedule Your Invisalign Consultation Today!
For many adults, the idea of braces leaves them feeling uncomfortable. They want and need straight teeth but just don't want the inconvenience and obvious look of metal braces. Invisalign has met a real need in the dental world and now adults can correct their dental problems with a product that is almost invisible.
Whether you've had braces in past but haven't worn your retainers to keep your smile straight or you never had the opportunity for orthodontic treatment growing up, there's a solution for you.
Fixing your teeth isn't just about appearance either. Crowded and crooked teeth are hard to keep clean and can lead to an increased risk for decay and gum disease. Bite misalignment can also lead to tooth wear, fracture, muscle issues and even TMJ disorders.
To find out if you're a candidate for clear braces, call our office today at 602.957.9643 or click here to send us an Email Contact Form. We will be happy to provide more information or help you schedule a consultation.